Whether you want a metal roof system or one for your screened-in porch, you and your metal sheet roofing contractor must choose the type of metal.
You will need to choose the sort of metal appropriate for your needs, the appearance you are going for, and your available funds. Although there is a wide variety of roofing materials from which to pick, three types are used most often in residential construction.
Swadley Roof Systems aims to empower every homeowner to make the best choices for themselves and their roof by providing them with the information and tools necessary to do so.
By the time you finish reading this article, you will have acquired knowledge about the three most frequent varieties of metal as well as the sort of metal roof that is ideal for residential roofing.
When it comes to residential roofing, what kind of metal is best?
Standing seam roofs are built of welded panels. As metal heats, panels may expand and shrink.
According to metal sheet roofing contractors, standing seam metal roofing is the most acceptable alternative for a comprehensive metal roof system. Some individuals use metal roofs on their front, side, rear, and bay windows for aesthetic purposes.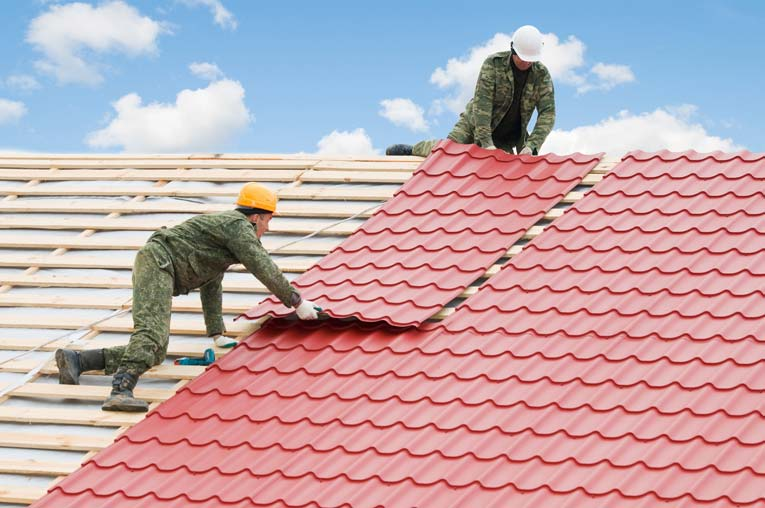 3 Common Metal Materials Used for Residential Roofing
1. Steel metal roofing
In residential roofing, steel is the most widely utilized metal (both as an accent and a whole roof system). Roof panels made of standing seam metal are available in either 24 or 26-gauge steel.
The thinner a steel panel is, the greater the disparity in gauges; the higher the number, the thicker the panel. Oil canning is more likely to occur in 26 gauge steel metal roof panels because of their smaller thickness.
This paint treatment may be applied to the steel of any gauge; however, some metal sheet roofing contractors choose to cut their pricing by providing 26 gauge steel to clients without the high strength paint finish and applying a different kind of paint finish.
>>Related post: Why Do You Think That Metal Roofs Are Becoming More Popular?
2. Copper metal roofing
For residential metal roofing, copper is a common option. Copper is sold by the ounce, unlike steel, sold by the ton (16, 20, 30, 60, 90).
The most typically used copper in residential roofing is 16-ounce copper. However, as metal sheet roofing contractors say, it might cost you hundreds of thousands of dollars to utilize copper for a full-standing seam metal roof system.
That's why premium shingles, slate roofs, and cedar shake roofs all have copper as an accent. There are other uses for roof flashing, chimney tops, covered porches, and bay windows.
Copper is an excellent roofing material, but it's also long-lasting. You won't have to be concerned about it again after it's been put on your roof.
>>Related post: Metal Roofs: Everything You Need To Know
3. Stainless steel metal roofing
Stainless steel is an alternative for residential metal roofing that isn't as often utilized. The gauge of stainless steel is the same as that of steel.
Depending on where you live, it will give you the same appearance as galvanized metal, but it won't rust. Because of this, the metal roof panels will not have the heavy-duty paint finish or any other form of painted finish.
Copper and stainless steel are both long-lasting roofing materials. On the other hand, stainless steel is a more durable metal than copper or 24 gauge steel.
A metal sheet roofing contractor's recommendation is to use stainless steel as an accent like copper. But in the end, it's all up to you and your financial situation.
>>Related post: All About Screwing Metal Roofs